Positive listening for covid-19
I'd say right about now we could all use some positive vibes. That's why we made the decision to get back into the studio and get this episode recorded. We've stacked it with feel-good outdoor and adventure stories and news to fill your ears. You'll even come out of it with a solid watching and reading list to keep you occupied.
To all of our listeners, we hope you are healthy and safe.
Take care and enjoy.
Official Podcast sponsors:
BLUEY MERINO
An Australian-owned-and-operated Merino Activewear & Outdoor Clothing company.
www.blueymerino.com
CARIBEE
One of Australia's most well known and leading backpack, travel and outdoor brands.
www.caribee.com
Air-dropped carrots for furry bushfire victims
With many of our Australian animals suffering from the devastating effects of the bushfires that swept across our country, the Government stepped in and launched 'Operation Rock Wallaby'. A mission which saw them take to the skies to air-drop thousands of kilograms of food into remote areas so our native marsupials could get some much needed food. Read the whole article and watch some video footage in this unilad.co.uk article. 
Safest carpark in the aussie bushfires - the lake
In this amazing sequence of footage, we see some lakeside campers go to extraordinary measures to save themselves and their vehicles. When they realise the bushfire is heading towards them, they use a chainsaw to remove some trees to give them access to drive into the lake. Amazing footage was captured and everyone stayed safe. Watch the full video in this abc.net.au report.
Register your adventure - it could save your life
Secret Aerial Mission to save dinosaur trees
When a pocket of the last 200 known Wollemi Pine trees where surrounded by deadly Australian Bushfires, a hand-picked firefighting team was deployed to protect them. These trees were thought to be extinct until they were discovered in 1994. Since then the area has been under close watch and heavy protection. The fantastic news it, the bushfires were contained and the trees are safe once again. Read the whole story and see some more photos in this theguardian.com article. 
As Craig mentioned in the podcast, it sounds like a plot from a B grade Hollywood movie, but sharks walking on land is now a real thing! The leopard epaulette shark has evolved in a very short space of time to be able to walk on all fours, not just across the ocean floor but also across the top of exposed reefs during low tide. The adaptation allows them to reach smaller tidal pools where prey is trapped for them. This shark isn't quite in the same league as a Great White but let's hope this evolutionary trait doesn't catch on or even the beaches won't be safe. Read more about this interesting animal in this National Geographic article.
outdoor biology classes for visually impaired
We've been blessed with five senses for a reason but we often take some of them for granted. Second to that, we often let some of them get 'out of tune'. In this fantastic story, a visually-impaired biology students are taken into the field to experience nature. The results are spectacular and to be honest, I found them inspiring. As outdoor enthuisiasts we all know the benefits of time in the wilderness. This video reminded me to make sure I engage all five senses more often and really enjoy my surroundings. Watch the full video on nhk.or.jp
trail cam films amazing animals
When a man decided to leave a trail camera in the wilderness for a whole year, he created something that I can't say I know was going to be SOOO good. Positioned at a fallen log over a stream, his footage captures a myriad of animals and birds using the log as a bridge. Squirrels, Black Bears, bobcats, deer, beaver and grouse are among the long list of wildlife that are captured on film. The footage is captivating and had me in suspense as I waited to see what turned up next. Very much worth a look to brighten up your day. 
TOM'S MAGICAL MYSTERY MEDIA MASH-UP:
This guy has equal amounts of skill and guts. He sets out solo to summit the 4478M Matterhorn mountain. The footage is spectacular. In parts beautiful and breathtaking and in other parts horrific, especially if you can't deal with heights. Another great way to soak up some time and still get your mind on the outdoors and in this case, it's a lot safer. 
Red Bull X-Alps 2019: Full Documentary
I can't quite work out how this "sport" ever came to be. It's most definitely the 
Kilian Jornet can't really make bad content. Whatever crazy adventures he gets himself into, I'm usually a big fan of. In this short film, he races Tom Erik Heimen up and down Romsdalshorn mountain in Norway. Doesn't sound like anything too crazy until you realise that Tom is a base-jumper and plans to launch from the top of the mountain and reach speeds of 250 km/h (155mph) to make up ground on the ultra-marathon champion Jornet. You'll have to watch the video to see how it ends. 
Spend some time in a Green forest
If you are craving some outdoor time, this is 100% the video you MUST watch. It's just about as immersive as you can get. Beautiful footage, the sounds of nature and nothing is rushed. This guy takes his time to prepare his coffee, make pancakes and even repair his pants. It's hard to explain why it's good to watch but I'm guessing it's due to the simplicity. I hope it brings some joy if you're unable to get outside at the moment. 
Zen in the art or archery
If you're looking for a small book to fit in your pack and enlighten you as you watch the sun set over the mountains, this could very well be worth ordering. It's a short read but I wouldn't call it a quick read. At times you're going to have to take minute to pause and try and absorb the wisdom you've just read. If you can do that though, and Eastern philosophy is of interest to you, then this is the next book you should order. It's not about Archery, it's about something much bigger than that. 
Another book about nepal - but different
When I travel to other countries I make a pretty big effort to immerse myself in their culture. To me, that's the whole purpose of travelling. I often find travel books too 'sterile' for me for that same reason. I'm happy to say that this book wasn't just a refreshing change to that genre but completely captivating. It's real stories written by real people from every part of the world including Nepal. The result is a collection of short stories that make you feel like you just sat down with a group of travellers around a campfire and listened to all the good, bad and ugly experiences they had along the way. The only problem with this book is that it's from a series of books so I think my bank account is going to take hammering soon. I highly recommend this book.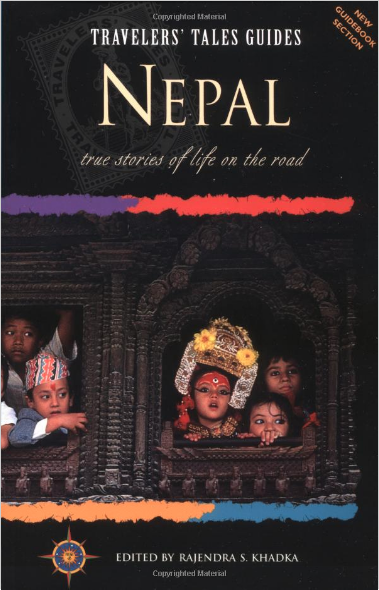 The Scavenger's guide to haute cuisine
In this book, Steven Rinella dances between passionate story telling and incredibly valuable and interesting cooking techniques. Seemingly without effort, Steven is able to transport the reader to his childhood, into the wilderness hunting for game and then back to his kitchen as he prepares a year's worth of wild game for a 3 day feast with friends and family. This guy can take the feeling sensation of a situation and translate it directly to paper and something very special is the result.
Eating utensils or straight-up weapons?
Two is one and one is none! If you're a fan of this outdoor community mantra then you might be keen to check this out. In this case it's 3 tools and that's a bonus any avid wilderness traveller would sign up for. It starts as a heavy-duty spork/kubotan but unscrewing the handle reveals another weapon or eating utensil, depending on your view. Overall I'm going to say I'm pretty interested in grabbing one of these and the fact that it's produced by KA-BAR means I know I'm going to get a high-quality item. Find out more about it here or watch the video review below.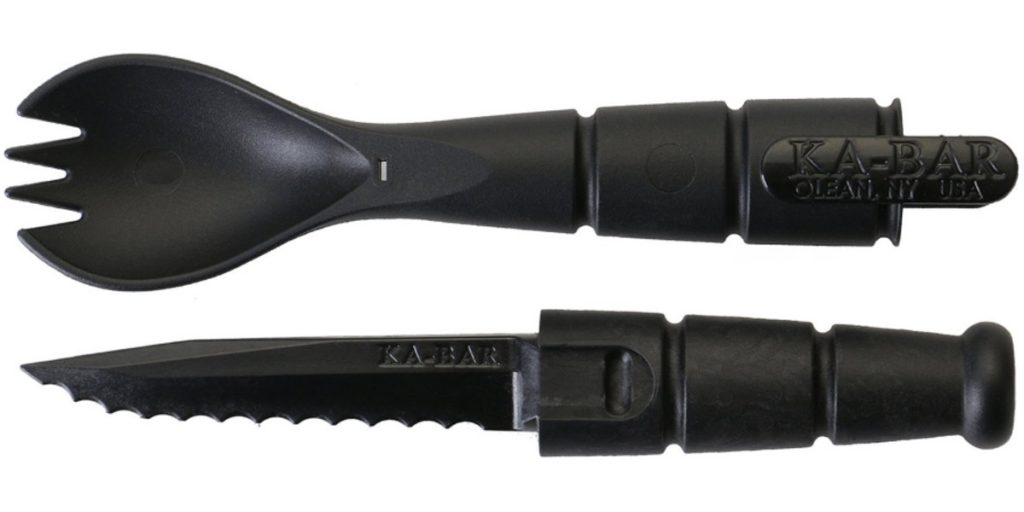 Hand-crafted in the USA, the Bush Buddy Stove is a throwback to the simple pleasures of hiking and the outdoors. It's a small fire in a can and that means you'll have unlimited fuel as you travel. Just be sure to check local rules and regulations on the use of open flames in your area before you purchase one. Learn all about it at bushbuddystove.com