Hiking and outdoor adventure news!
This episode is certainly something different for us. After a guest had to postpone our interview we decided to get creative. I had a backlog of interesting wilderness, hiking and outdoor news articles that I haven't had time to share with listeners so we decided to pack it all into one episode. If  grumpy frogs, buried treasure and summiting peaks sound interesting, then you're gonna love this episode.
Official Podcast sponsors:
BLUEY MERINO
An Australian-owned-and-operated Merino Activewear & Outdoor Clothing company.
RHEOS GEAR
100% Polarised, Floating Sunglasses
CARIBEE
One of Australia's most well known and leading backpack, travel and outdoor brands.
TOPO MAPS+
Go deeper into the backcountry
Jimmy Ashby: Young Adventurer of the Year 2019
Jimmy Ashby has already done more travelling than most people have done in their entire lives and he's only 20 years old. At 16 he was already off on a 900km cycle down the coast of Tasmania, Australia but in 2018 he set off on his biggest challenge to date. To cycle around the world from West to East. 
It was a 39,100km journey across 32 countries and four continents that spanned 393 days in total. An epic adventure that he completed in May 2019 and an adventure that put him in line to win the Australian Geographic Young Adventurer of the Year award. A fantastic and well deserved achievement. Read the full article on australiangeographic.com.au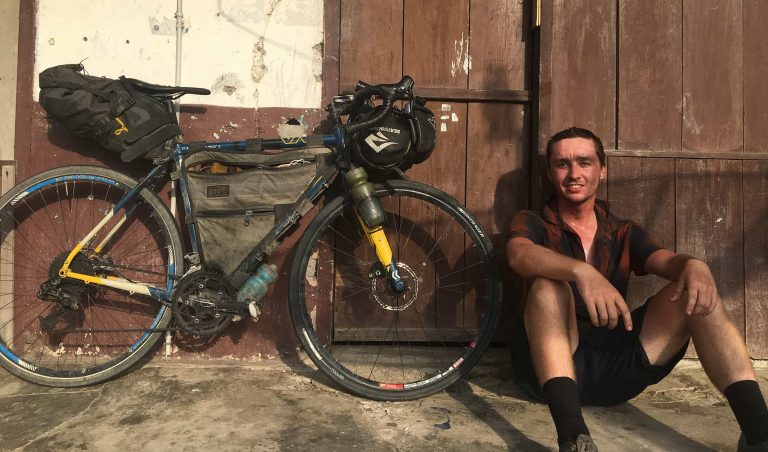 Hunting for treasure in Yellowstone national park
When eccentric 80 year old New Mexico man Forrest Fenn claimed to have buried $2million dollars worth of treasure in the cliffs of Yellowstone National Park it set off a scavenger hunt that has lasted since 2010. Not only has the lure of the riches proven too much for many people to resist, it has unfortunately caused the death of several treasure hunters. Read the full and rather odd article on washingtonpost.com
hiking for mental health in hong kong
The Mental Health Foundation, based in Hong Kong, has developed a program to help young adults. The experience called "Night to Light"runs from dusk to dawn with the idea that there is always light after darkness.  Operation Santa Claus – an annual fund raising event has raised money to hire instructors and therapists, and also buy hiking gear for participants.
Read all about it on scmp.com
10 reasons why your brain loves a hike
Known for extreme adventure, RedBull have put together a list of how hiking and being in the outdoors can help your brain. Backed by a lot of scientific data and research it's actually quite a good read. Have a read and pick up interesting facts on redbull.com
Floyd the mastiff rescued from hiking Utah mountain
Most of the time when our hiking buddies have had enough for the day, they are usually still able to walk out. But when it's Floyd the 86kg mastiff and he's decided he's had enough of walking, you have to call Search and Rescue. 
perthnow.com.au
Young hikers rescued in Tasmania
It's great to hear that these hikers were rescued safely but it's a situation that pops up all too often in the media.
Read the full article:
heraldsun.com.au
Great Walk plan for Ben Boyd National Park
Plans to develop Ben Boyd National Park to accomodate top tier hut-to-hut have created a divide between existing hikers and those keen to make a profit from the improvements. It's a complex debate but worth getting all the details in this article on abc.net.au
This is the image that had us laughing so hard on the podcast. It's a Rain Frog and for reasons we can't understand, it always looks like that.
Check out sadanduseless.com for the entire suite of hilarious images. 
Teresa Gergen - summits all 846 thirteeners
At 55, Teresa Gergen, has just become the first person to summit all 846 thirteeners in the lower 48 and Hawaii. It's a truly amazing feat and a great read on outsideonline.com
Albert Wiggan - 2019 Conservationist of the Year
Recipient of the 2019 Australian Geographic Society Conservationist of the Year award is 38 year old Bardi-Kija-Nyul Nyul man, Albert Wiggan. He's a ranger from Dampier Peninsula in WA, Australia and he's well known for his love and dedication to a region called The kimberleys. In this abc.net.au interview you can learn a little more about Albert and his passion.
5 Common Leave No Trace Misconceptions
It's all to easy to think that you've got your principles in order and you're set to go but in this lnt.org article you'll see that it pays to keep up to date.
Solo Hiking Trip Nothing To Do With Inner Journey
When I stumbled across this article, it took me a minute to work out that it was satire at it's very best. It's all too accurate in places and a good laugh from theonion.com
13-Year-Old Saves His Dad's Life
When David Finlayson ventured into the wilderness of Idaho with son Charlie, he certainly didn't count on his son having to save his life. The pair were rock climbing and all was going well until a falling boulder hit David on the way down. The rest of the story in this outsideonline.com article takes you from the accident right through to how his young son managed to raise a rescue team. A very touching and inspiring story of a situation no father wants to find themselves in.
TOM'S MAGICAL MYSTERY MEDIA MASH-UP:
Directed and produced by Noel Smyth & Fergus Grady , this film follows the 800 kilometre pilgramage along the famous Camino de Santiago trail. It has recently been aquired by Parkland pictures for distribution in the UK and Ireland so keep an eye out for it.
The title translates to "off road" in English and is a fantastic animated short film which you could quite simply describe as a Search and Rescue gone wrong. I won't give anymore than that away so just watch it.